Melanie Mc Donald, artist from Cornwall U.K.
I am a contemporary British artist originally from Newquay, Cornwall U.K. Today I am based in Brittany, France.
I have lived in Newquay, Penzance and Falmouth in Cornwall and had my own art gallery for several years in Truro, Cornwall. Over the last few years I have travelled frequently across the Channel from Cornwall to Brittany and eventually fulfilled my ambition to move here in Dec 07..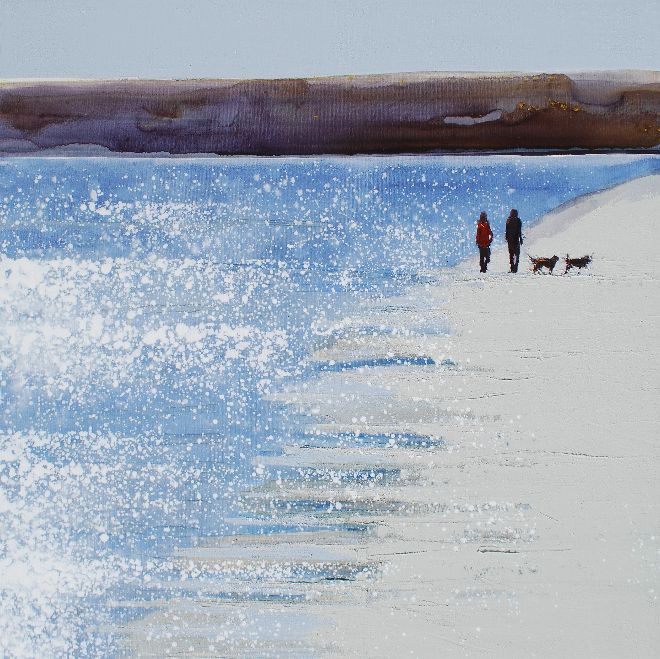 Rock, Cornwall - early morning walk along the pale sand
I gain much of my inspiration from the Cornish landscape - in particular beaches and the sea in Cornwall. I especially love North Cornwall; my paintings often focus on Padstow, Polzeath Beach and Rock. Each time I visit Cornwall, I'm always drawn to the north coast for ideas for more paintings. The Camel Estuary and Daymer Bay near Padstow in Cornwall are also continuing reference points.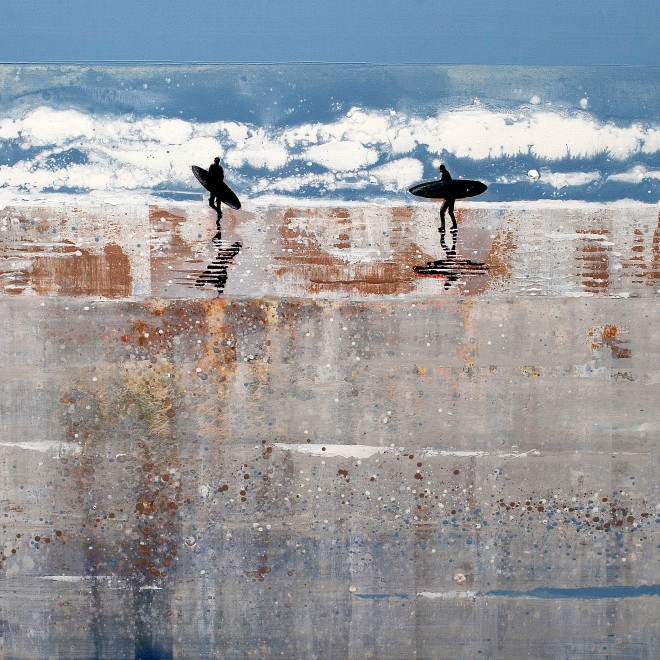 Atlantic Breakers at Polzeath, Cornwall
I used to live next to Fistral Beach in Newquay, Cornwall, and walked my dog there everyday. I began to get very interested in the surfers and the shapes of their surfboards against the background of sea and sky. Over the last 2 years, I have painted a series of surfer paintings and they are a continuing passion of mine.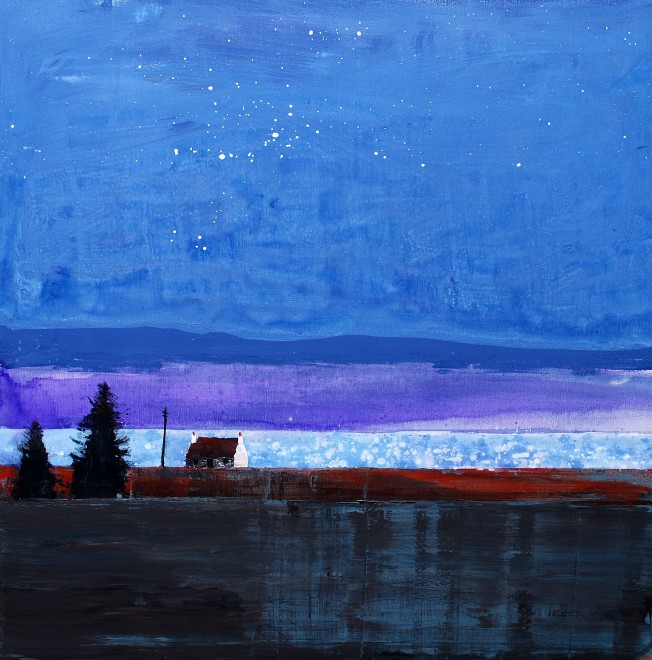 Starry, Starry Night, Isle of Skye, Scotland
Recently I visited the West Highlands of Scotland and the Isle of Skye with my husband who is originally from Glasgow. After visiting Scotland earlier this year, I have produced a collection of paintings of Isle of Skye, Arisaig and the West Coast of Scotland. I adore Scotland, so much so that I named my daughter Skye! I plan to revisit the West Highlands of Scotland and Outer Hebrides and continue painting landscapes inspired by Scotland over the next few years.
I hope my paintings have the power to suggest the experience of walking on the beach, surfing, or spending time with family. I would like you to feel almost as if you can enter the painting and be transported to that place. I use an evocative, delicate balance of colours with surprising textures. I'm often attracted to shimmering light, silhouetted figures and distinctive shapes such as surfboards. There is often an expanded sense of space in the paintings, particularly the beach paintings, reflecting the infinite horizon and endless sky of Cornwall and Scotland. I use the paint in a fluid, watery flow to depict water.
I love walking on the beach and watching the colours of the sea and sky change. I take hundreds of photographs of Cornish beachscapes and seascapes. Then I translate the images I've seen through my camera lens; these are a starting point but instinct soon takes over and I am painting from memory. I try to capture the texture, colour and form of the beach scene using layers of colour and varied brushwork. I think many of the paintings have a haunting, ambiguous quality. I often feel that my paintings hover between representational landscape paintings and abstract paintings.
For more information about my work and my world, you can visit my blog: www.gauguinsloft.blogspot.com
I have produced a selection of high quality prints of Cornwall which are available framed and unframed. Please see the prints of Cornwall section.


Bright Day at Polzeath, Cornwall
IMAGE USAGE
All images and/or photographs on www.melaniemcdonald.co.uk are copyrighted materials (©2007-2014), each image to the artist, Melanie McDonald. Images and/or photographs from this site may not be used for any commercial purpose without prior written permission from the image owner. Approved non-commercial uses include web site or blog posts that are relevant to www.melaniemcdonald.co.uk and the artist, works or mission, whereas proper visible credit to the image owner must be clearly displayed. For further clarification in any case, please contact Melanie McDonald by e-mail: info@melaniemcdonald.co.uk